The ECOSLIGHT Consortium would like to invite you to join the Massive Open Online Course (MOOC) - Essential Skills for Environmentally Conscious Smart Lighting Professionals - that will run from the 17th of October 2022.
ECOSLIGHT MOOC, which is freely accessible by anyone, and aims at supporting lighting and wider construction industry professionals, or aspiring ones including students, to improve their lighting, digital, green, entrepreneurial, and life competencies.
This 8-week online training program will offer specific learning modules aimed at enhancing know-how and skills in the fields related to:
Innovative, sustainable and human-centric lighting systems and products,
Digital technologies for co-creation processes,
Entrepreneurial mindset and critical thinking.
The course is 100% free and 100% online, with a flexible, self – paced learning path and available in English.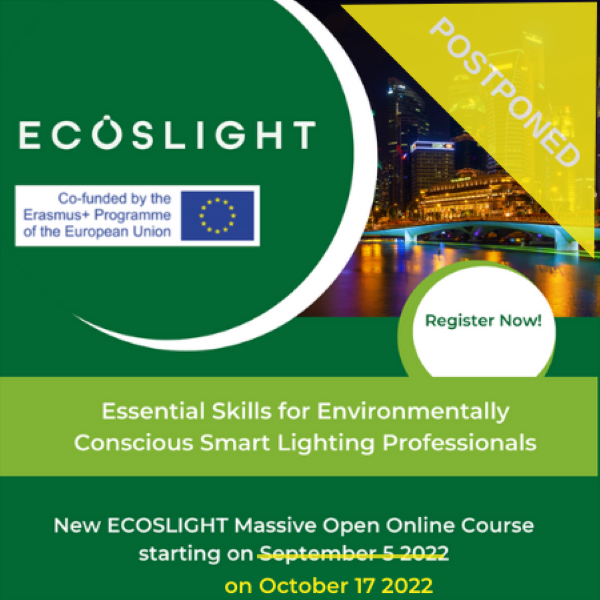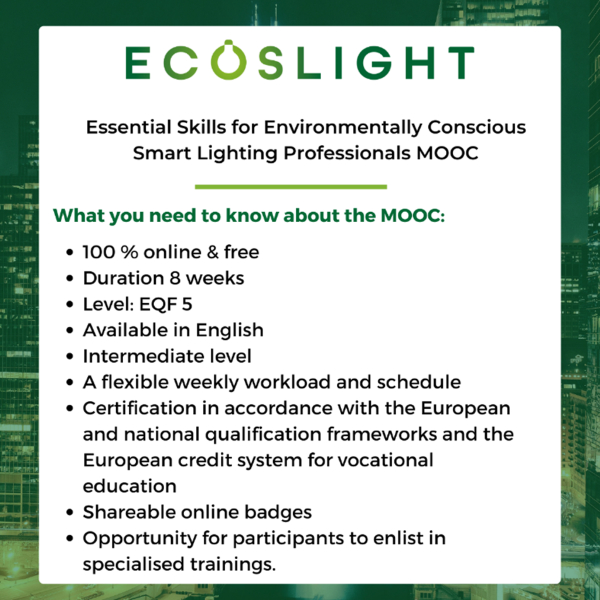 Once you enroll, you will have guided access to all presentations, videos, quizzes, and additional resources. You will have the opportunity to actively participate by sharing your ideas and questions in the discussion forum. Upon successful completion, you will earn online badges and a certificate in accordance with the European and national qualification frameworks and the European credit system for vocational education.
The learners who will successfully complete the MOOC will have the possibility to enroll in specialisation courses for the job profiles of Smart Lighting Systems Technician, Lighting Consultant, Lighting Systems Assistant Engineer, and Landscape and Street Lighting Technician.
The specialization courses will be available only for people living in France, Italy, Germany and Greece.
Together with the specialisation courses, the trainees will take part to a Work-Based Learning Experience in companies of the lighting sector for the implementation of real projects.
Ready to Enroll? Please register through the following online form.
For more information you may go through the MOOC Course Explained or send an email to ecoslight.mooc@gmail.com
The MOOC is offered by the ECOSLIGHT Consortium. The ECOSLIGHT project is co-funded by the Erasmus+ Programme of the European Union.